Custom orthotics work on your feet much like glasses work on your eyes – they reduce stress and strain on your body by bringing your feet back into proper alignment.
Your feet are the foundation of your body; as you walk, run, and play, they support you and help protect your ankles, knees, hips and/or back from damaging stress. Your feet perform better when all of the muscles, arches, and bones are in their ideal stable positions. When the supportive structure of the foot is compromised, it can result in dysfunction and pain in the feet, knees and back. Custom orthotics can be the solution to enhance the structural support of your feet and eliminate your pain.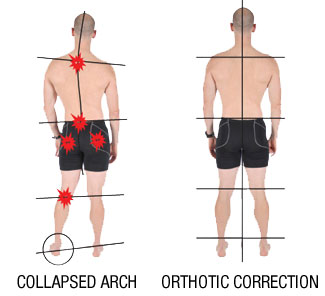 The body assessment image shows how imbalances in the feet can lead to knee rotation, pelvic tilt and shoulder drop. These imbalances in the body can be caused by pronation and supination of the foot.
These instabilities can lead to conditions such as plantar fasciitis, knee pain, hip pain, back pain, and neck pain.
A properly aligned body will have symmetrical feet, level knees, pelvis and shoulders. Wearing Custom Orthotics may help alleviate imbalances and conditions caused by those imbalances.
A correctly built orthotic can help alleviate various types of pain, prevent recurring pain, prevent injuries, and potentially eliminate the need for knee surgeries.
Do you suffer from knee pain? Does it worsen during activities such as walking or playing sports?
Do you experience pain in your ankle, hip, or back?
Have you tried all medical interventions, such as steroid injections and anti-inflammatory drugs?
Have you received advice regarding surgery to alleviate your pain?
 
The pain is likely originating from your feet; fallen or high arches are among the most probable reasons for your suffering.
Best Injury Rehab and Chronic Pain Specialist in the community of Limerick and Charleville
If you are looking for the Best Physiotherapy Clinic in Limerick and Charleville, you have found them in Don Kelly Physiotherapy and Acupuncture. We are 5.0 stars on both google and facebook with a combined 200+ reviews. We are helping our clients with the highest level of physiotherapy care.